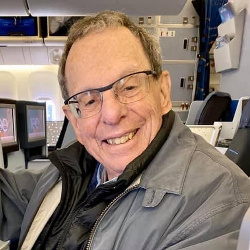 Funeral Service Information:
Jeffrey S. Berke, of Chicago, passed away peacefully after a short illness on January 10, 2022, at the age of 81. Beloved husband of Sharon, nee Rosen; loving stepfather to Rachel (Joel); proud grandfather of Hannah and Lauren. JB, Mr. Berke, was a father, mentor, and role model to countless students who call themselves "Jeff's Kids". Jeff dedicated his life to education for over 40 years, serving as an English teacher, sponsor of the Schurz Players Drama Group, and a Speech Coach for the Schurz Stoics, the only speech club in the public schools in Chicago. He produced 25 musicals ranging from "Fiddler on the Roof" to "Hello Dolly". In 1998, the school dedicated "The Jeffrey S. Berke Theater" in his honor. It's estimated that he taught more than 1,500 students since beginning his career at Marshall High School followed by many years at Carl Schurz High School. He was born in Chicago and educated at Lakeview High School, the University of Miami, and earned his master's degree from Loyola University Chicago. Over the years he influenced the lives of hundreds of students. "Mr. Berke's drama group gave us a safe place to hang out after school and be a part of a very close knit group." Drama Club members, known as "Jeff's Kids", still gather several times a year for pizza (Jeff's favorite food along with Oreos), despite the age range of nearly two decades. Before every performance with their hands in a circle, his students chanted "We are real people, doing real things for the first time. Break-a-leg!" "Mr. Berke is the nucleus of our friendships." The family and Jeff's Kids plan to have a celebration of his life later this year. In lieu of flowers, please make a contribution in Jeff's memory to the Misericordia Foundation at https.//wwwmisericordia.com//giving/donate-online/ or via mail at 6300 N. Ridge Avenue, Chicago, IL, 60660. Jeff's service is private and will be livestreamed, recorded, and accessed through the Westlawn Cemetery website, look for the Lakeshore Jewish Funerals tab, then tap the "Watch a Service" link, Monday, January 17th, starting at 11:00am. Arrangements entrusted to Lakeshore Jewish Funerals, 773-625-8621


Funeral Provider:
Lakeshore Jewish Funerals
Clergy:
Rabbi Nancy Landsman
Burial is private.